Sofa Cleaning
Back To Our Services
Do you know how many hours per day or per week do you spend sitting on your sofa, reading a book on your sofa, eating a snack on your sofa, working on your computer on your sofa…? Probably a lot and you are definitely not the only one. People very often choose their sofas as they favorite place in their whole residence. On the other hand sofas are made for all those things so why make a big deal out of it. No, we will not make a big deal. In fact we will help you make a great deal for you and your sofa. We are Sofa Cleaning Redwood City – professional sofa cleaning company that makes sure your sofa looks, feels and smells perfect at all times.
Experienced & Well-Equipped Carpet, Rug & Sofa Cleaners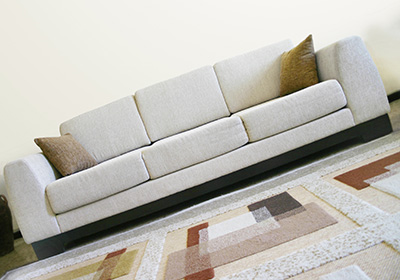 As we have stated before all of us spend lot of time on our sofas engaged in various activities. Just sitting on the sofa may cause it to get dirty and let alone eating, snacking or drinking on it. Well the things and furniture pieces like sofas are here to serve us and our purposes and not the other way around. In order for this relationship to work and to go for long you have to give something in return so to speak or in simple terms you should make sure you clean and maintain your sofa regularly. People usually associate the act of cleaning with the visual appeal and aesthetics and even if this is one of the strongest arguments and motives there are some other more important issues why you should proceed with the sofa cleaning or couch cleaning regularly. For example, certain sofa materials and fiber attract more dirt and pollutants and if you do not proceed with regular cleaning you are putting your health at stake as well as risking the development of respiratory issues and various allergy attacks.
Our intention is definitely not to scare you, but just to warn you about the importance of clean sofas and couches. Off course we will not leave you at that; we invite you to contact us and appoint us as your official sofa cleaners.
We are professional service provider with great reputation. We have been active in the Redwood City for some time now and we have established great relationship with our community. We would like for you to join our team of satisfied customers.
We are a company that in short lines stands for:
Total and complete availability
Optimal sofa cleaning services and couch cleaning services
Great sofa cleaning experience
The above listed are basically three general concepts that best describe our activity. We have team of professional profiles always available to provide you with requested and needed services. All of the people working in various departments within our company are friendly, mannered and true professionals so you can expect to receive knowledgeable and informative advice from our receptionists when you first get in contact with us as well as from the experts that come to your home fully equipped and prepared to make your sofa or couch look as good as new. Call Sofa Cleaning Redwood City now and see what else we can do for you!